ASD-HIPROS, Hovione's Intelligent Proprietary Screening, is the most advanced and accurate tool to identify Amorphous Solid Dispersion formulations by Spray Drying with maximum performance and stability.
The Platform
Requiring as little as 5g of API, ASD-HIPROS rapidly screens for the best combination of drug loads, excipients – including Dispersome® BLG novel protein-based excipient – and surfactants with an advanced computational tool followed by Spray Drying of up to 24 of the most promising formulations. 
This 3 step screening process is able to provide you, in just 6 weeks, with an accurate assessment of all formulation prototypes: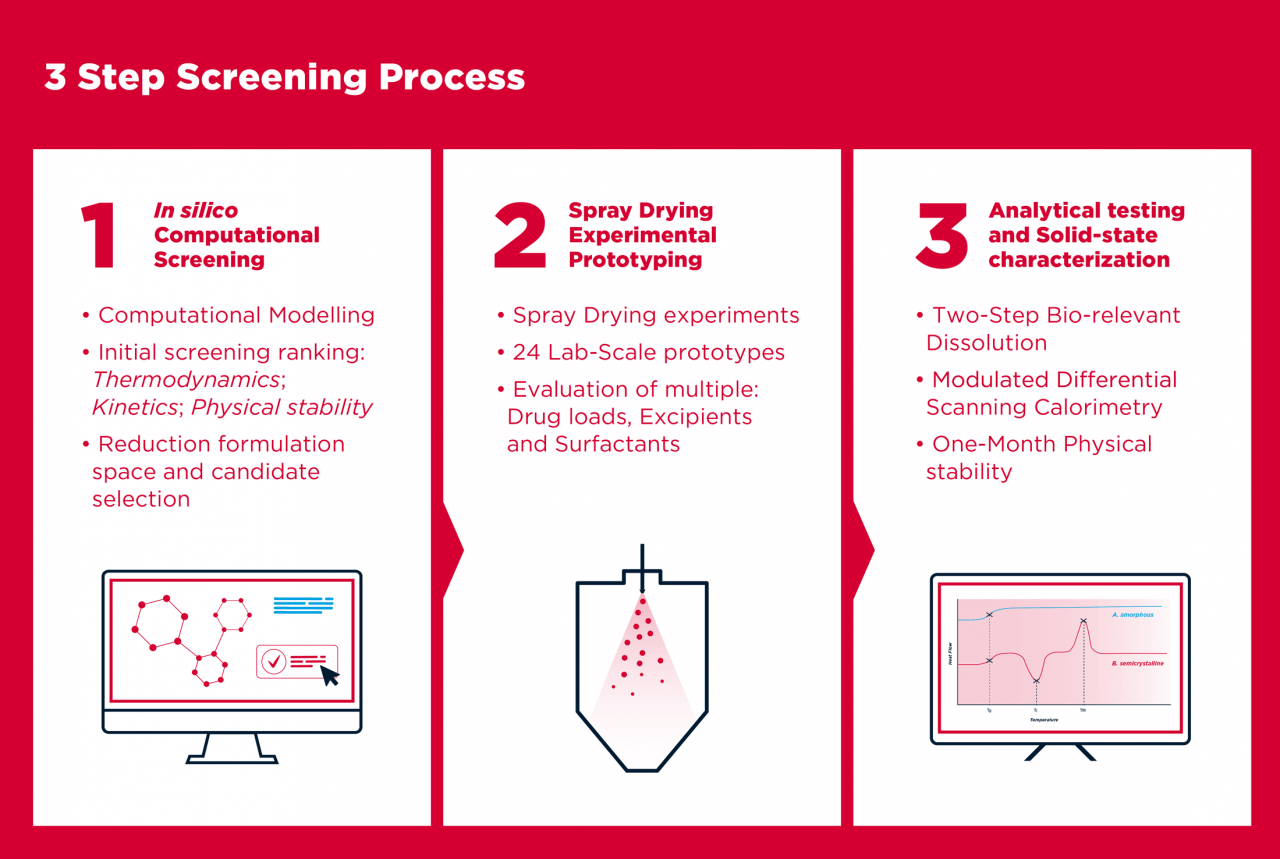 Detailed Assessment Reports
ASD-HIPROS narrows down formulation options, comparing them in terms of bioavailability and stability, to provide a detailed assessment report including:
Formulation space definition and evaluation;

List of 24 viable formulations tested experimentally;

Processed analytical results for up to 24 formulation prototypes;

Formulation ranking, comparing bioavailability and stability, identifying the best formulations;

Options on how to proceed with your drug candidate
The Benefits
ASD-HIPROS enables a seamless experience for you and your drug candidate. A fast and efficient screening platform able to identify the best performing and stable formulations for your drug. In just 6 weeks, this platform maximizes your chances of identifying a successful formulation, accelerating the development towards commercial manufacturing and patient availability.
ASD-HIPROS includes distinct features such as:
Requires minimal API – as little as 5g of your API for the full service;

Rational formulation definition using

in silico

computational modeling;

Testing of a high number of Spray Drying prototypes (up to 24) to screen for most promising formulations;

Rapid turnaround time in as little as 6 weeks;

Flexible operation space, maximizing formulation combinations with different drug loads, polymers and surfactants;

Single point of contact for improved communication.
Why rely on us?
Hovione is a CDMO with more than 15 years of accumulated experience and expertize in Spray Drying development and manufacture. Hovione offers a clear path to clinical supplies and commercialization by combining modeling capabilities and extensive process knowledge with manufacturing capacity and an excellent approval track record.
CURATED CONTENT:
ARTICLES