Make your drug soluble with Dispersome® technology. Dispersome® is a solubility enhancement technology that relies on an innovative and naturally occurring excipient to develop amorphous solid dispersions with high drug loading and high bioavailability.
Supporting Drug Development with the Dispersome® technology
The innovative Dispersome® technology, developed by Zerion, is capable of solving the poor solubility issues of drug candidates, presenting performance benefits and being an alternative to traditional excipients or enabling technologies. Dispersome® enables the formulation of API with a novel protein-based excipient (Beta-Lactoglobulin, BLG), developing amorphous solid dispersions - named Dispersomes – and achieving high drug loading, solubility, and drug bioavailability. 
The Dispersome® technology can be applied at any stage of the drug development cycle including preclinical tox studies, first-in-human, replacement of existing drug formulations that present suboptimal bioavailability and life cycle management.
Dispersome® is now part of ASD-HIPROS the most advanced and accurate screening tool to identifying the best Amorphous Solid Dispersion formulations by Spray Drying.
High solubility – High drug loading
The use of Dispersome® technology enables drug loadings above 50% w/w while maintaining stability and improving API solubility. These results have been demonstrated and proven with a wide diversity of drug entities.
Processability by Spray Drying
Dispersomes can be manufactured at a large-scale using Spray Drying, which is currently the main technology to improve drug solubility of amorphous solid dispersion formulations. This innovative technology leverages Hovione's Spray Drying experience and expertise, offering a clear path to clinical supplies and commercialization.  
Leveraging the proprietary position of your drug
Dispersome® technology is protected by several patent families and available for licensing on an exclusive basis within your product scope, securing a unique protection with possible life cycle extension beyond 2040.
BLG, a natural alternative to polymer excipients
BLG, the main component in whey protein isolate, is the key excipient used in the Dispersome® technology. BLG is a natural ingredient used in both food and nutrition products, offering an alternative which is safe, easy to integrate and easy to be used in existing applications.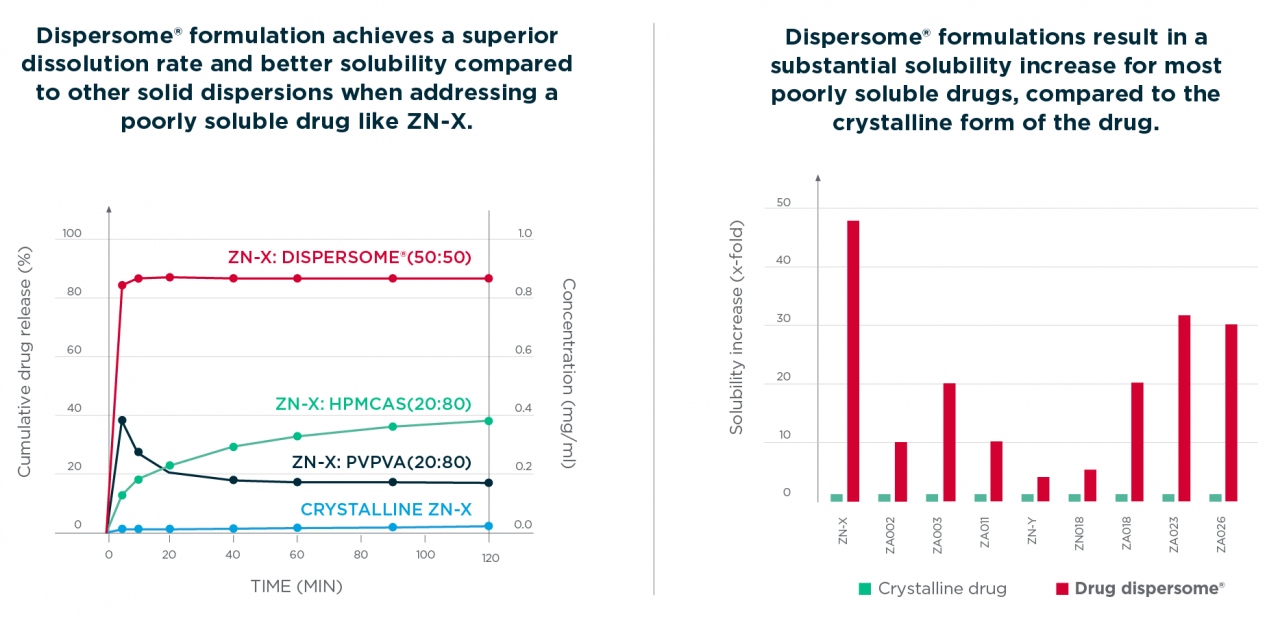 The Leader in Spray Drying
With more than 15 years of accumulated experience and expertise in Spray Drying, Hovione's unparalleled experience in development, scale up and GMP manufacturing of ASD provides customers with a line of sight over the entire development life cycle of oral solid dosage forms from API to commercial drug product.
Why rely on us
We guarantee the best possibilities for drug candidates, by developing a feasible drug formulation and scalable manufacturing process in the shortest time
We offer an integrated solution, from API to GMP, and a range of service levels to provide you a personalized experience
We have a worldwide capacity to meet your unique needs
We have a culture based on innovation, quality and delivery
And, we passionately turn any problem into a solution
The Trademark Dispersome® is used under license from Zerion.