Development of Products for Pulmonary Delivery
We develop products together with our partners following Quality by Design principles to reach optimal product performance through robust processes.
Our commitment: less than 5 months from lab development to cGMP supply.
Hovione is a leading CDMO in dry powder formulations for Inhalation and Nasal, leveraging from our expertise in Particle Engineering and its integration into Drug Product.
One of our core approaches is the use of in silico modeling to support formulation design and predict outcomes prior to any experimentation. We use the same technology and fundamental principles in early development as will be used in late stage, allowing us to establish a formulation process around scale-independent parameters and obtain safe, effective and quality products in a lean way.
Leveraging from a collaboration driven relationship with our suppliers, we are in continuous improvement on our formulation strategies. We acknowledge the relevance of choosing the right excipient and capsule from earlier stages.
Additionally, we offer a broad range of simple, patented and globally competitive DPI devices according to target use and dose - from single to multi-use inhalers.
Our state-of-the-art development methodology includes
Spray drying of carrier free particles for high dosage and biopharmaceuticals
Particle engineering by jet milling and wet polishing
High and low shear mixing for standard and high dosage carrier-based formulations
Precision capsule filling for formulation development and stability studies
Seamless integration between formulation and device development 
Our analytical technologies can support our customers in getting quickly into clinic stages while maximizing chances of success
Cascade impaction (NGI, ACI, FSI) coupled with biorelevant tools for accurate performance characterization
Biorelevant dissolution for inhalation products
Particle surface analysis: raman imaging, specific surface area (by BET and iGC), atomic force microscopy
Wet and dry particle size method development
Amorphous content
Powder rheology
Our commitment: less than 5 months from lab development to cGMP supply.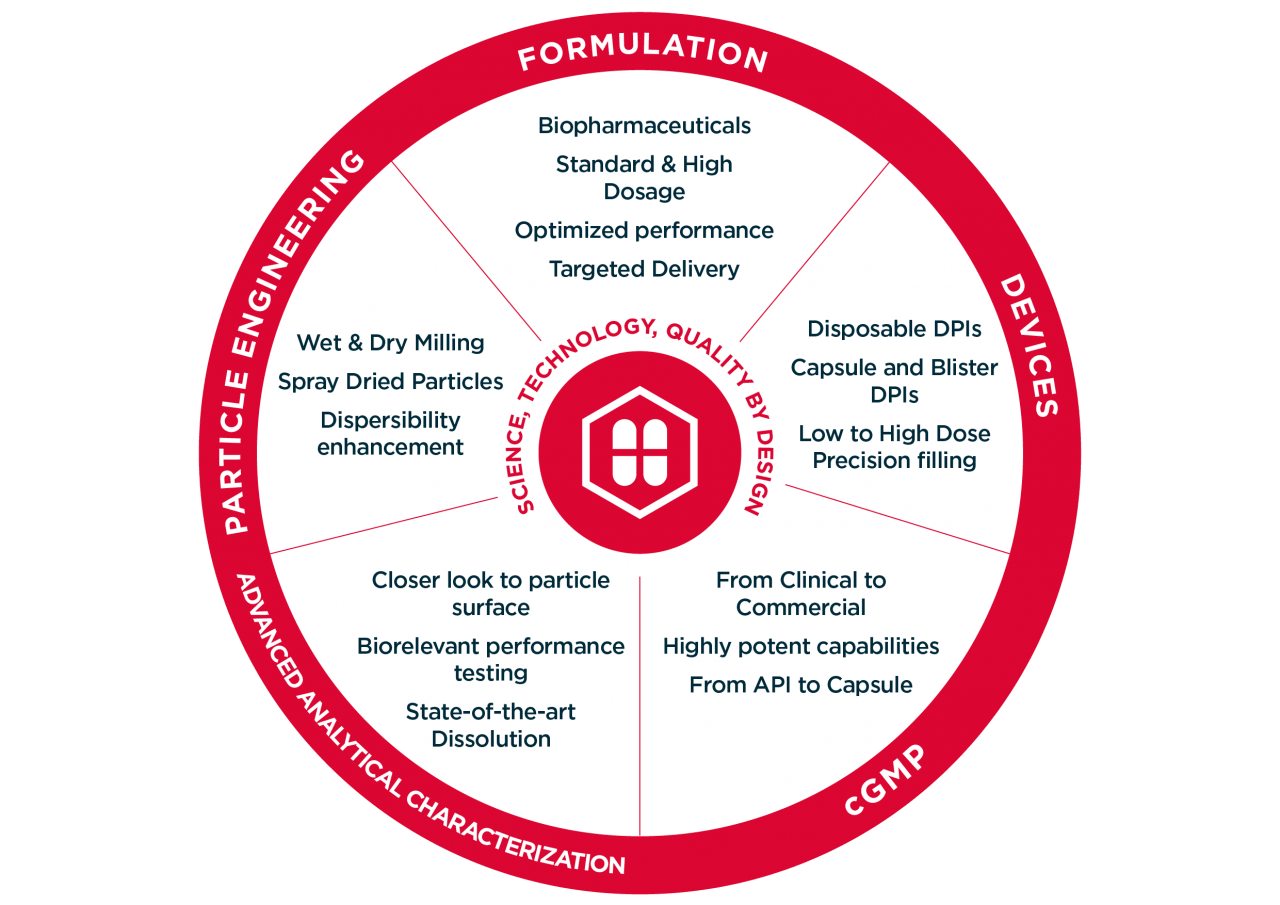 Contact our experts today.
Hovione offers specialist and innovative scientific expertise, that provides solutions to your complex challenges.
Related files
Poster: Does water impact capsule roughness and DPI aerodynamic performance
Download
Poster: DPI carrier-based formulation scale-up a statistical analysis approach
Download
Poster: Overcoming the challenge of filling highly cohesive spray-dried powders
Download