World's largest selling disposable DPI.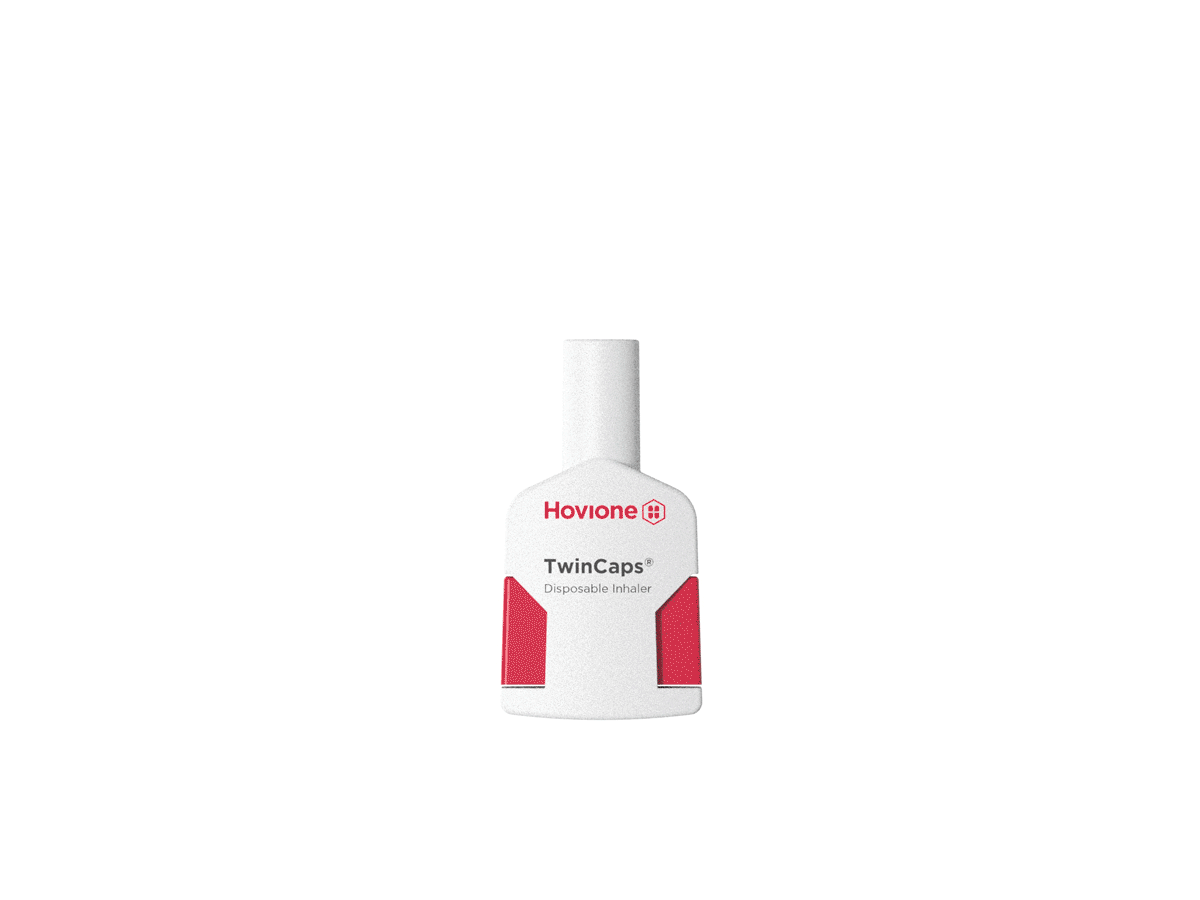 It is designed to be extremely simple to use and highly cost-effective. TwinCaps is specially designed for indications where acute and short-term treatment is needed, such as anti-infectious therapies, vaccines, pain, military and rescue treatments.
TwinCaps® is the world's first market approved single-use disposable DPI. It delivers Daiichi-Sankyo's anti-viral drug Inavir and it is market leader in Japan for influenza treatment, outselling all competitors. 
TwinCaps® features two pre-filled doses and it is fully injection molded from only two plastic parts allowing it to be highly affordable on a global scale. TwinCaps® is available for Licensing and Supply.
Applications
Anti-virals

Rescue therapies

Antibiotics for lung infection

Pain management

Vaccines

Military
A marketed disposable DPI designed for extreme ease of use.
TwinCaps is designed for applications where a pre-filled, disposable, economic device is needed. It introduces a patent-granted design targeting extreme ease of use even to inhaler naïve patients. Inhaling the dose is simple with TwinCaps: patients only need to perform one operational step to access the pre-filled dose and inhale. Its market-proven usability makes TwinCaps a lead candidate for acute and rescue treatments.
TwinCaps is highly cost-effective as it is manufactured and pre-filled using only two plastic components. It is compatible with doses up to 60 mg and capable of delivering high deposition efficiency with a wide range of formulations, from carrier-based to engineered formulations. Its two, separate dose compartments allow multiple drugs to be delivered independently. Under a clear configuration, TwinCaps provides visual feedback that the complete doses have been inhaled.
In addition to TwinCaps device supply, Hovione provides all formulation development services and TwinCaps device filling for the targeted indication. We can conduct fully integrated device and formulation development and optimization. Hovione can provide Generic and Innovator drug developments from proof-of-concept to scale-up and manufacturing of clinical and commercial drug product supply.  
Available for Partnering and Supply
Single-use disposable dry powder inhaler

Patent life up to 2027

Extreme simplicity: push and inhale

Small size and hygienic

Two, pre-filled, separate dose compartments 

Dose up to 60 mg

Allows multiple drugs to be delivered independently

Compatible with carrier and engineered formulations

Medium device resistance

Fully injection molded from 2 plastic components

Color and branding customization available

Transparent configuration for dose feedback to patient available

Maximum affordability

Available for Licensing, Supply and integrated Formulation-Device development
| | | | | |
| --- | --- | --- | --- | --- |
|   |   |   |   |   |
| Patent life to 2027 | Dose up to 60 mg | Fully injection moulded | Economic at Global Scale | Available for Licensing and Supply |