Ultra-affordable, multi-use blister DPI.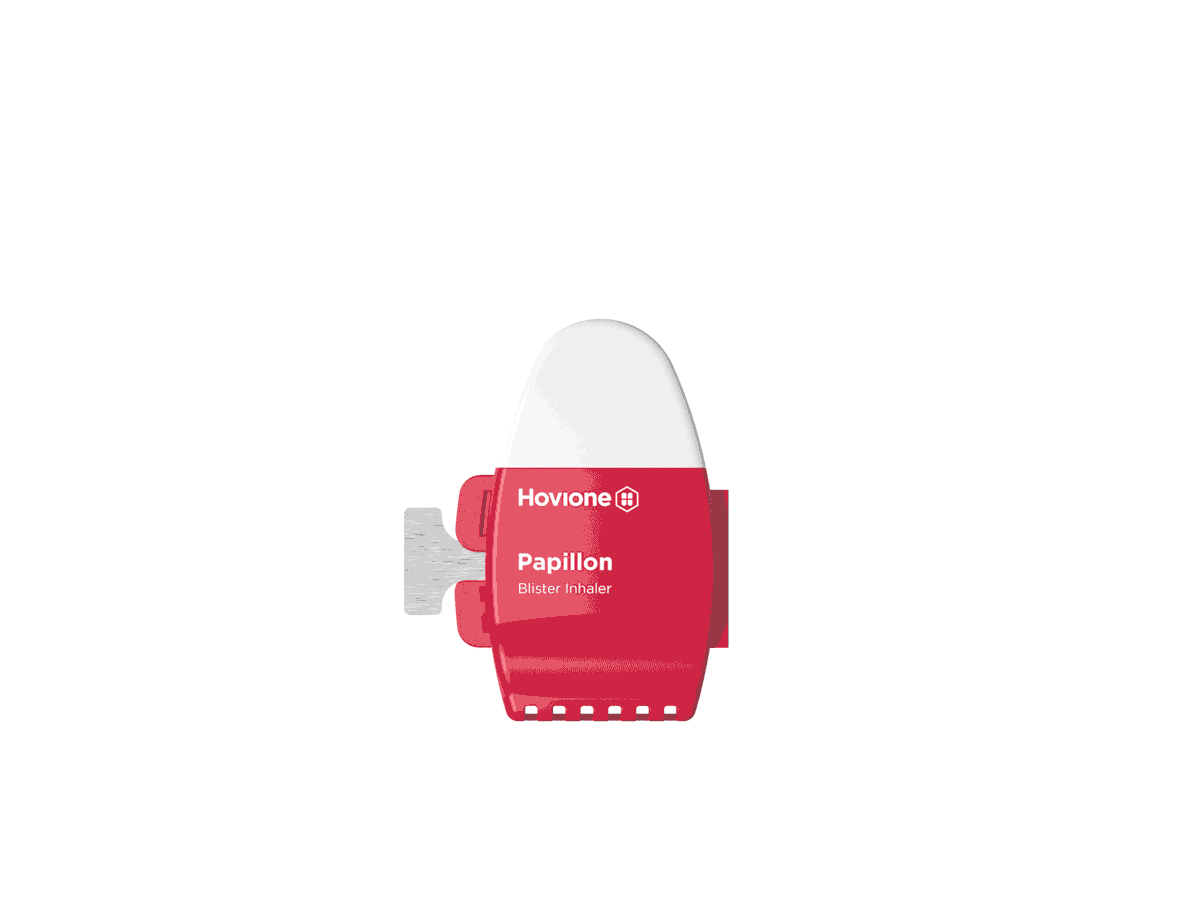 Papillon is a patented blister-based dry powder inhaler. It is a single part inhaler designed to be extremely simple to use: load the blister, close and inhale.
On the account of being made from a single re-usable plastic part using blisters, Papillon unlocks the potential of a paradigm shift for pharmaceutical companies developing new inhaled drugs: a cost of goods per dose competitive to that of multi-dose inhalers, but at a small fraction of the development cost and risk associated to complex devices.
Papillon is a highly flexible drug delivery platform.
It is suitable for both chronic treatments, such as Asthma or Chronic Obstructive Pulmonary Disease (COPD), and also for acute treatments in a single blister format. It can accommodate a single or double blister configuration, enabling cost-effective single or combination drug therapies at global scale.
Papillon is available for Licensing and Supply.
Applications
Asthma 

COPD

CF

Antibiotics for lung infection

Analgesic drugs

Anti-virals

Rescue therapies

Antibiotics
A multi-use blister DPI designed for highest drug delivery flexibility and affordability on a global scale
Papillon is designed to be ultra-cost effective while simultaneously providing flexibility to deliver a wide range of inhaled drugs and ease of use to the patient. It introduces a patented system for automatically piercing the blister once it is loaded allowing Papillon to become a one-part re-usable blister DPI suitable for both chronic and acute respiratory treatments and cost-effective in both emerging and established markets.
Papillon is compatible with a blister size suitable for doses of up to 50 mg with both traditional and engineered formulations. It provides a clear transparent chamber for visual feedback that the dose has been inhaled from the blister. The flexible design of Papillon allows for easy adjustment of device resistance to a targeted range. Its design is customizable to fit a single or double blister configuration, making Papillon suitable to deliver both single and combination therapies at a cost of goods per dose competitive to the one achieved by current multi-dose DPIs used in chronic treatments. Full customization is available: cover, resistance, color, visual feedback to patient and number of blisters to suit the targeted drug product application.
In addition to Papillon device supply, Hovione provides all formulation development services and device filling for the targeted indication. We can conduct fully integrated device and formulation development and optimization. Hovione can provide Generic and Innovator drug developments from proof-of-concept to scale-up and manufacturing of clinical and commercial drug product supply.
Available for Partnering and Supply
Multi-use blister-based dry powder inhaler
Patent life up to 2035
Extreme simplicity: load blister, close and inhale
Highly portable and convenient
Automatic blister piercing during loading
Dose up to 50 mg
One or two independent blister configurations
For single, double or triple API delivery
Compatible with carrier and engineered formulations
Easy to adjust device resistance
Fully injection molded from 1 plastic component
Customization available: cover, color, size, visual feedback to patient
Highest affordability
Available for Licensing, Supply and integrated Formulation-Device development
| | | | | |
| --- | --- | --- | --- | --- |
|   |   |   |   |   |
| Patent life to 2035 | Blister | Fully injection moulded | Economic at Global Scale | Available for Licensing and Supply |