Biorelevant characterization of inhalation products
Biorelevant tools provide a better assessment of the final product performance while supporting a quality-by-design approach with reduced development time.
Standard aerodynamic particle size distribution gives a narrow perspective on in vivo performance. Many other factors may determine the API fate: deposition pattern, dissolution rate, drug particle properties and physiological factors. Therefore, to support a lean development and a QbD approach, we offer a full range of standard automated characterization equipment: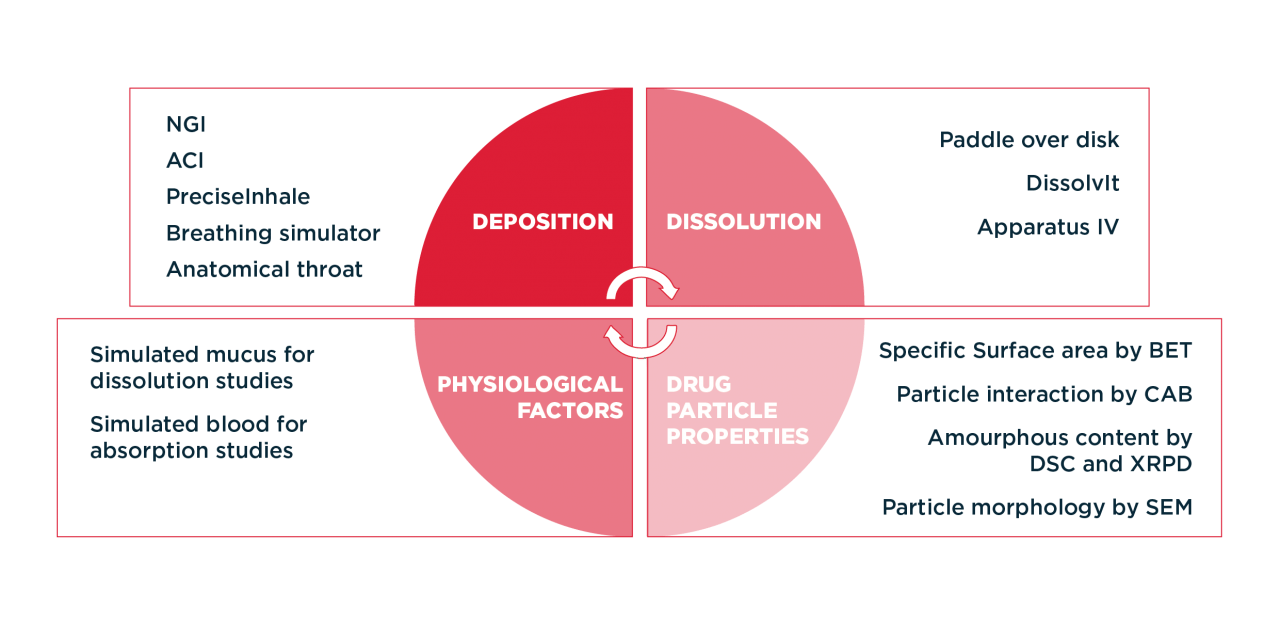 Hovione characterization capabilities
Focused on dissolution, we incorporate into the development a state-of-the-art testing apparatus for dry powder inhalers (DPIs):
DissolvIt®
Applicability:
first stages of formulation development, as the formulation strategy is defined (eg. Carrier-based vs carrier free)
additional discrimination tool for formulation selection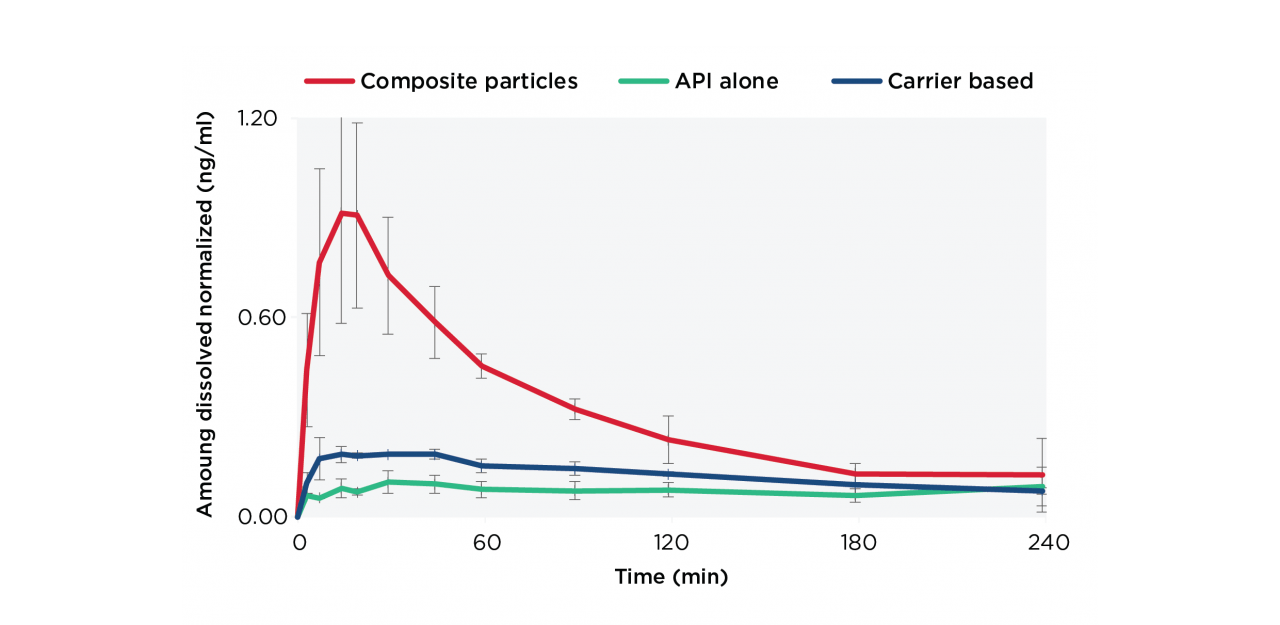 Dissolution profile for fluticasone propionate as API alone, formulated as a carrier-based and as a composite formulation.
The DissolvIt® (from Inhalation Sciences) is a fully automated in vitro simulation tool for absorption and dissolution of respirable particles in the lung epithelium. It is used in combination with a breath simulator PreciseInhale® to collect the inhalable fraction deposited after aerosolization.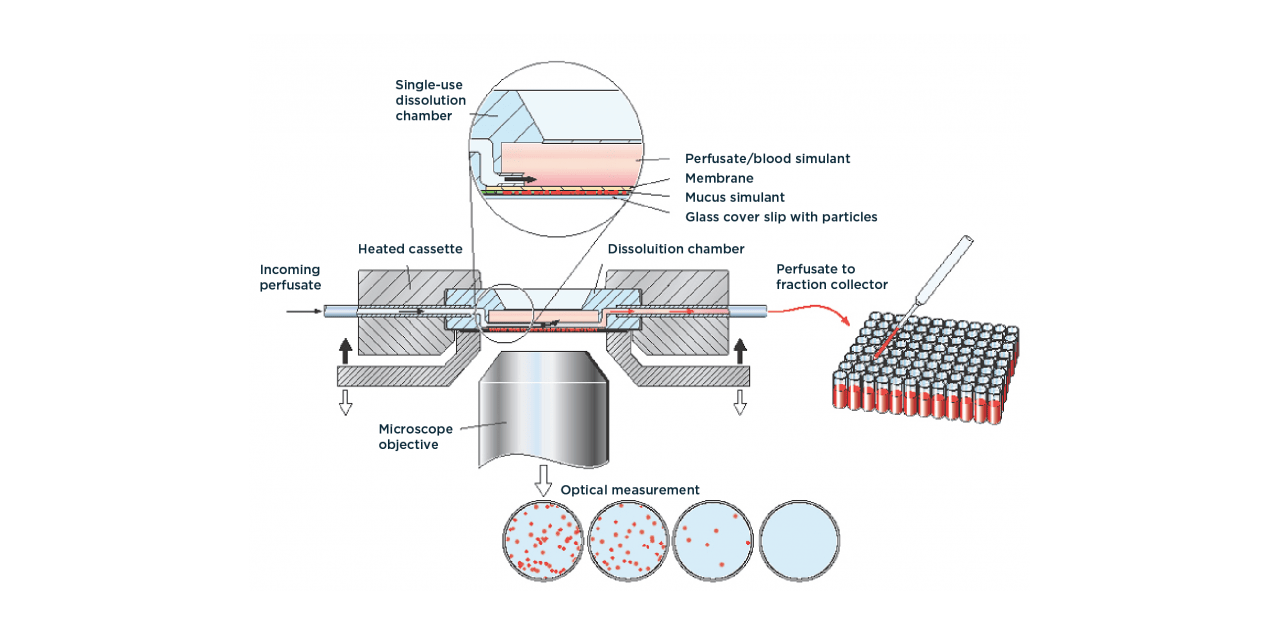 Schematized DissolvIt equipment
The collected powder is automatically put in contact with a simulated mucus, where it dissolves and diffuses until it reaches a flow-through blood simulant. The blood simulant is collected and quantified, leading to a pharmacokinetic like dissolution profile. As the dissolution occurs the particle's dissolution can be observed with the incorporated optical microscope. This is a significant step towards achieving a full DPI performance profile.
We understand the complexity of developing highly sophisticated inhalation formulations, from the particle engineering stage to the device design, characterization and performance prediction. With our characterization tools we offer a faster path to the clinic driven by a strong scientific knowledge.
Our commitment: less than 5 months from lab development to cGPM supply.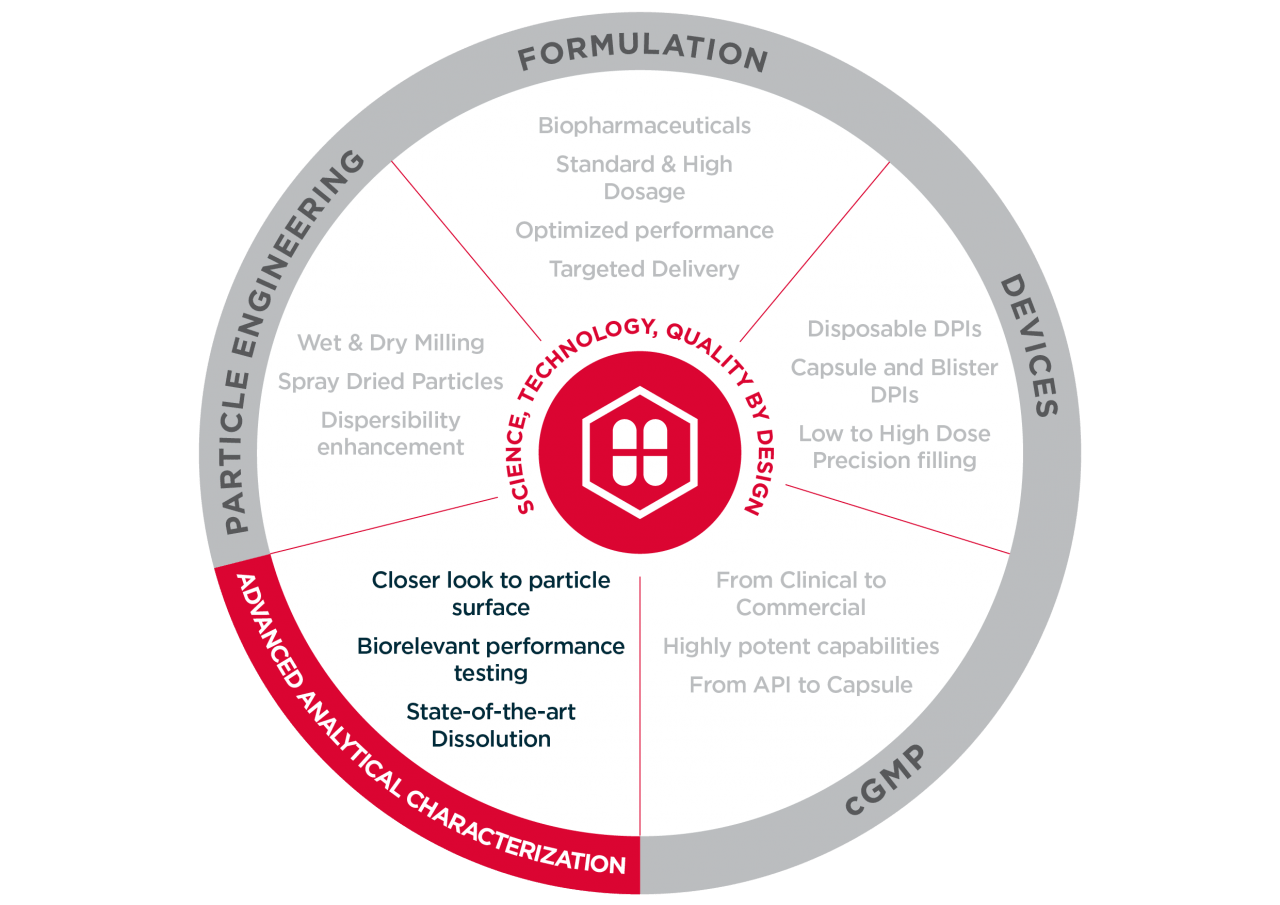 Contact our experts today.
With Hovione, you're in safe hands. Our impeccable quality assurance track record means that you gain comfort and confidence from day one. 
Related files
Poster: A novel strategy to examine dry powder biorelevant dissolution in lung simulated mucus
Download
Poster: Biorelevant Dissolution Testing of Orally Inhaled Drugs: Adding a Newly Designed Pre-Separator to PreciseInhale®
Download
Poster: Dissolution of Orally Inhaled Drugs using DissolvIt®: Influence of a Newly Designed Pre-Separator for Particle Collection
Download