Press Release / Sep 05, 2019
Hovione celebrates its 60th Anniversary in Cork
Loughbeg, Co. Cork. Thursday, September 5th, 2019: Hovione is celebrating its 60th Anniversary today in its site in Cork.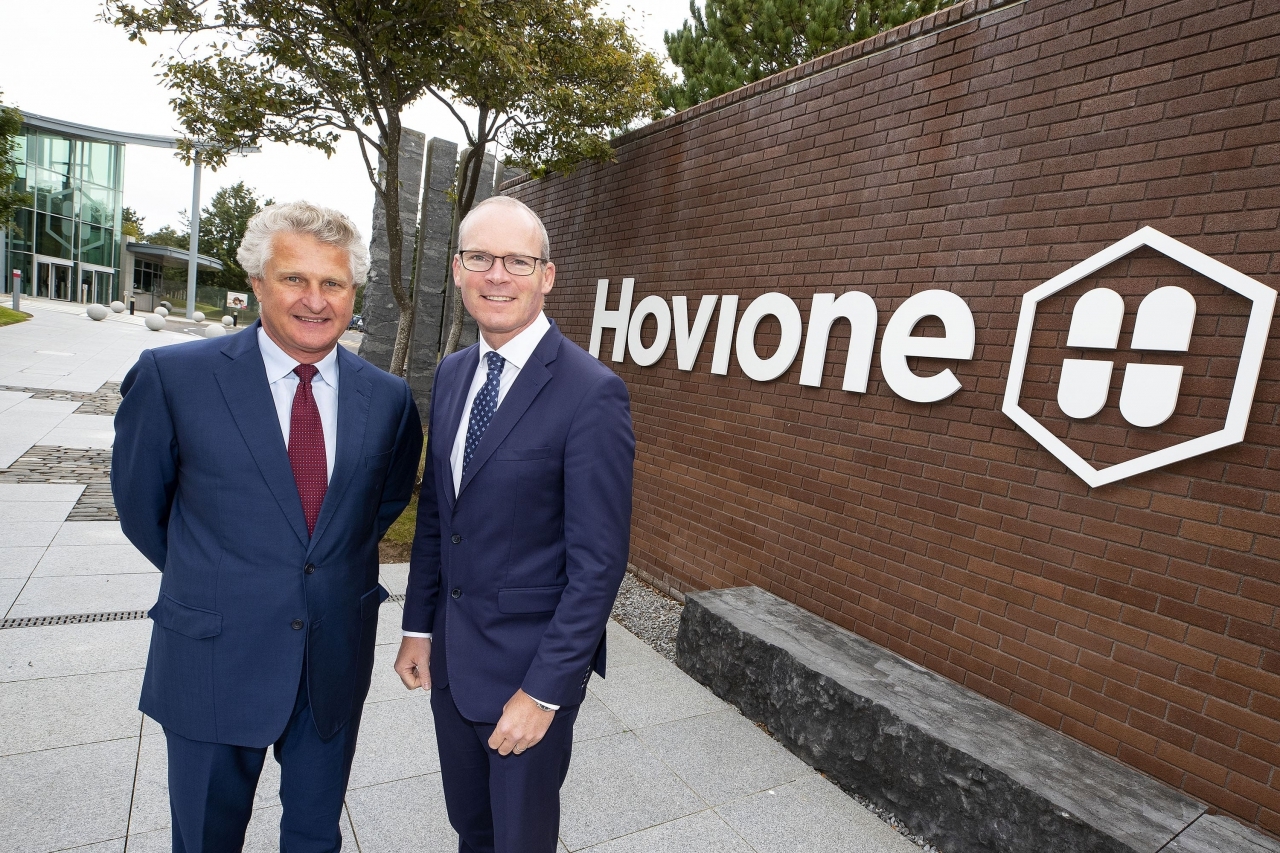 Hovione is a pharmaceutical company dedicated to helping pharmaceutical customers bring new and off-patent drugs to market. Hovione was established in Portugal in 1959 and today employs 1,742 people worldwide. The Cork site was established ten years ago and currently employs over 210 full-time team members.
"I'm delighted to see the Cork site playing such an important part in the success of this impressive company," said Simon Coveney TD, Tánaiste and Minister for Foreign Affairs and Trade speaking at the celebration event for Hovione's 60th anniversary. "Hovione has seen steady growth over the last few years and I'm confident that the coming years will be equally successful for the Cork team."
"Our Cork site plays a significant and strategic role within the Hovione network," said Hovione CEO, Guy Villax, who was in Cork for the anniversary celebrations. "With two Active Pharmaceutical Ingredient facilities alongside a Drug Product Intermediate facility that houses the largest commercial pharmaceutical spray dryer in operation, the Cork site boasts both extensive manufacturing capacity and people capability."
Over the last five years, the Hovione Cork site has invested close to $30 million in new processing equipment, new analytical equipment, upgrading the facility to contemporary standards, re-instatement of a third production building and the installation of new technologies. 
"Hovione is a fast, challenging, dynamic environment and the team here in Loughbeg are the reason for our continued success," said Dr. Paul Downing, General Manager at Hovione Ireland. "Since 2014, we have undergone a significant change in terms of increased volume output and increased capacity utilisation. Along the way, we have further diversified our portfolio, increased complexity, transferred products from sister facilities and increased the number of customers we serve."   
Hovione is a proud member of the Ringaskiddy and Loughbeg communities in which it is based and maintains strong links with the local community and sporting organisations. Hovione is an active member of Business in the Community and holds the Business Working Responsibly mark. The Cork site is also a signatory to the Business in the Community Low Carbon Pledge.
About Hovione
Hovione has almost 60 years of experience as a Specialist Integrated CDMO (Contract Development and Manufacturing Organization) offering from drug substance to drug product intermediate to drug product. With four FDA inspected sites in the US, Macau, Ireland, and Portugal, and development laboratories in Lisbon and New Jersey, the company provides branded pharmaceutical customers services for the development and compliant manufacture of innovative drugs and is able to support highly potent compounds. For generic pharmaceutical customers the company offers niche off-patent API products. In the inhalation area Hovione is the only independent company offering a complete range of services.