PowdAir, a simple capsule based inhaler
PowdAir is a simple, easy to use, capsule based dry powder inhaler with excellent performance.
PowdAir
A simple, easy to use and efficient capsule-based dry powder inhaler with high performance.
In 2010, Hovione decided to develop a reusable, capsule based, low cost dry powder inhaler to deliver large drug doses.
PowdAir can deliver lactose-based or particle-engineered powders, and Hovione has effective experience in both types of formulations, from proof of concept, to optimization, robustness and compatibility tests, scale-up, method validation, stability studies and clinical supplies.
Effective delivery - Model Formulation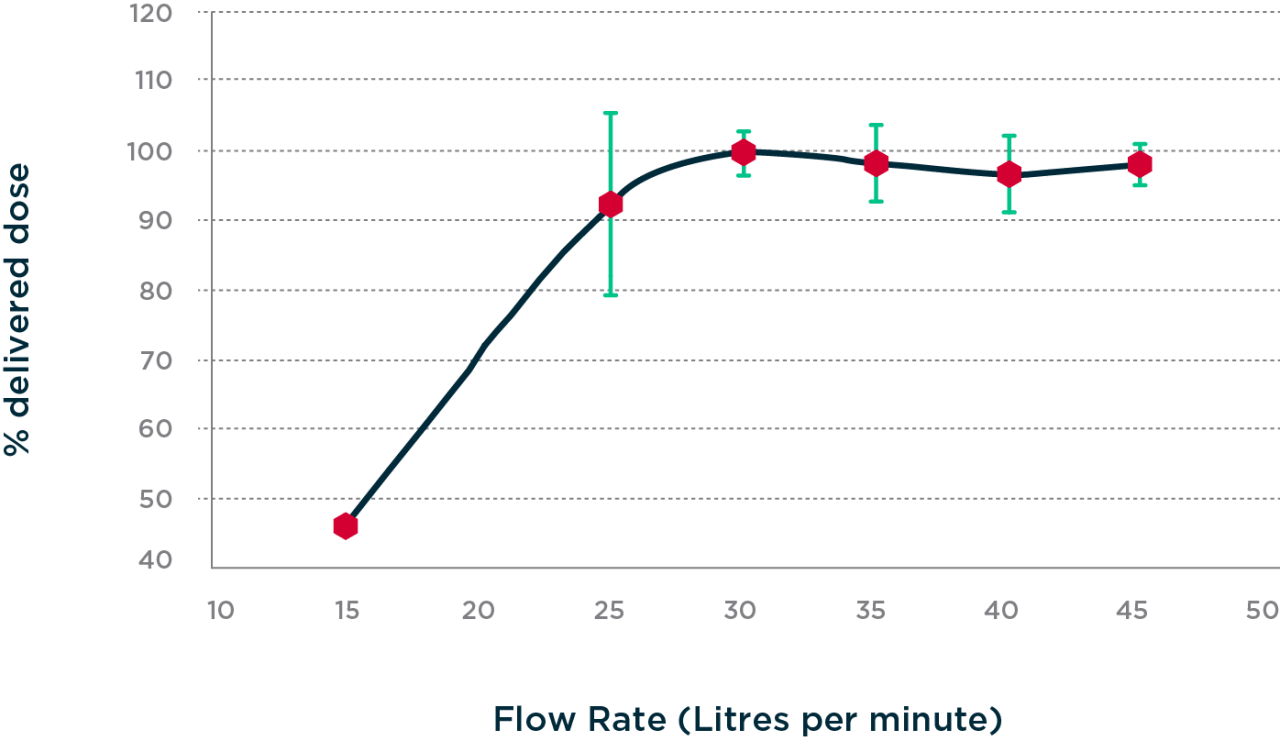 The minimum flow rate at which PowdAir has been shown to deliver 95% of the nominal dose is 30 liters per minute of airflow. Above 30 liters per minute, performance is unaffected.
Drug payloads range from the microgram range, employing lactose based formulations.
Comprehensive Intellectual Property Position
PowdAir is a patent protected device filed and granted in over 40 countries, including US (US 8677992) and EU (EP 2546460). In addition, other patents have been filed to cover additional scientific matter and the examination process is presently ongoing.
Applications
PowdAir device is simple, reusable and highly cost-effective device on a global scale. This DPI is indicated for applications where a chronic or a medium term acute capsule based delivery of an API is needed. Examples include COPD/asthma drugs, antibiotics for lung infection, analgesic drugs, pulmonary hypertension drugs, as well as respiratory therapy drugs.
Licensing and services
PowdAir is available for licensing from Hovione Technology Limited.
Hovione can provide all formulation development services, capsule filling and tailor a drug product to the PowdAir device or to any other dry powder inhaler. As an integrated inhalation products developer, Hovione possesses the most complete service offering, from API through particle design to formulation development and clinical supplies, for development, scale-up and industrial manufacturing, including full analytical support.
Key Advantages
Capsule based high efficiency re-usable inhaler.
Clinical trial ready and industrial manufacturing ready.
Lowest number of parts on the market (4 parts) for improved manufacturability in the industry - no metal parts, blades or springs
Patent life until 2034
Applications
Asthma, antibiotics, COPD, CF, others
PowdAir is available for clinical trail supply and for licensing. For additional information, please visit Hovione Technology website or Contact us.