Press Release / May 27, 2021
Hovione and iBET announce strategic collaboration
A strategic partnership that will take Hovione to new technology frontiers.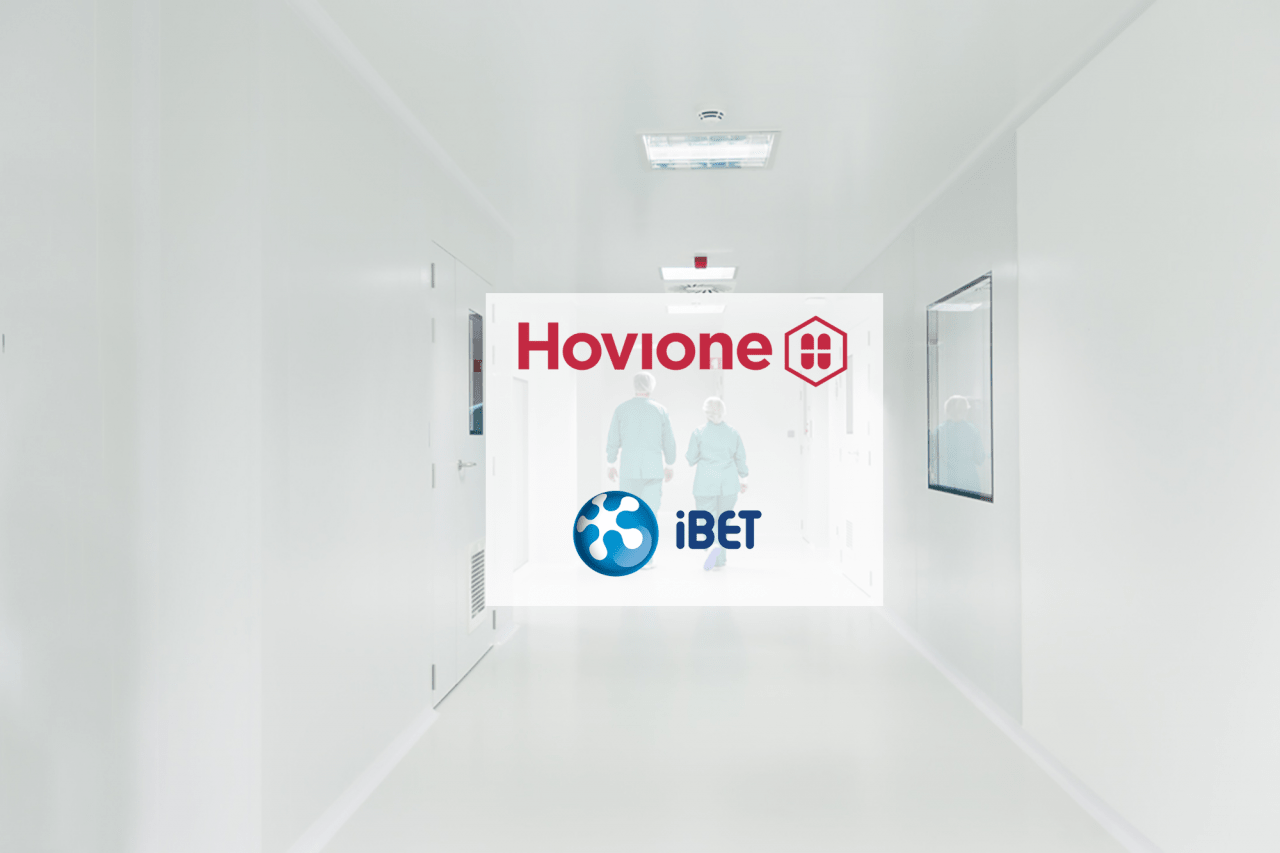 Loures and Oeiras, May 27, 2021 – Hovione was a founding member of iBET in 1989 and has just re-joined the membership of the Instituto de Biologia Experimental e Tecnológica.
In order to increase the scope and strength of its research and development programs in the areas of novel and high potential pharmaceutical technologies, Hovione has chosen to build on the existing knowledge and expertise of Portuguese academia. Hovione is known worldwide for the process development, manufacture, and formulation of small molecules. Over the past 6 years, Hovione was the key technical partner behind 24 of the 273 NDAs FDA approved, an 8% share.
The partnership with iBET will take Hovione to new technology frontiers. The Covid-19 pandemic has catalyzed an acceleration of scientific progress, outlining the power of new treatment modalities to fight diseases. The objective is to combine state-of-the-art knowledge from both partners to create strong industrial innovation in new therapeutic fields. The challenge is not trivial and will require more than the combined know-how, skills and capabilities of iBET and Hovione.
"We are delighted with the return of Hovione to the membership of iBET. Our goal is to strengthen the R&D capabilities of our members, this important partnership with Hovione will allow to pull together complementary scientific competencies and power the development of biopharmaceuticals that are essential to patient health. To win in the area of biologics and novel therapies it is critical to have access to state-of-the-art competencies and support technologies" said Paula Alves, CEO, iBET.
"The partnership with IBET opens a new chapter in Hovione's history. We will bring together our knowledge in chemistry, in cutting-edge technologies, of the market and of the FDA regulatory process with iBET's command of cell biology, viral biology and bioprocessing. If the twentieth century was the century of chemistry, the 21st century is the one of biology. iBET scientists have built deep knowledge in specific areas, we plan to work together to turn that knowledge into industrial innovation" said Guy Villax, CEO of Hovione.
"Hovione was a founding member of iBET and I had the privilege to meet Ivan Villax, a remarkable scientist and entrepreneur open to the world stage where Hovione plays a key role since its foundation. The experience in international collaborations and the complementary competencies that Hovione and iBET have built over the past 25 years in a parallel fashion will now combine in what I expect to be a fruitful collaboration" said Manuel Carrondo, Vice-President, iBET.
About Hovione: Founded in 1959, the multinational Hovione has today laboratories and plants in Portugal, Ireland, Macau, and the United States of America. Hovione researches and develops new chemical processes and produces active ingredients for the global pharmaceutical industry. Headquartered in Loures, the company employs 2000 people worldwide. Its research and development activity employs more than 420 technicians and scientists. For more information www.hovione.com
About iBET: Founded in 1989 as a Research and Development (R&D) institution dedicated to establishing bridges between academia and industry, the Institute of Experimental and Technological Biology (iBET) is today the largest Portuguese private non-profit institution, dedicated biotechnology research, an area in which he was a pioneer. A global reference in the application of biotechnology and bioengineering to health, iBET invests in the development of vaccines, antibodies, recombinant proteins, stem cells, gene therapy and other innovative therapeutic products. In addition to the health sector, iBET also has a strong position in the areas of Clinical Nutrition, Food Industry and the Agroforestry sector. iBET simultaneously develops more than 70 R&D projects, carried out by approximately 215 researchers, including doctorates, engineers, technicians and scholarship holders. Its competencies are supported by a dynamic and multidisciplinary academic and business network, which, together with its structure geared to obtaining applied results, allows it to transfer the knowledge it creates to companies, helping them to innovate, create value, employment, and economic growth. For more information: www.ibet.pt
For more information, please contact: