Press Clipping / Feb 25, 2021
Fire and evacuation drill at the pharmaceutical plant "Hovione"
News.Gov.MO, February 25, 2021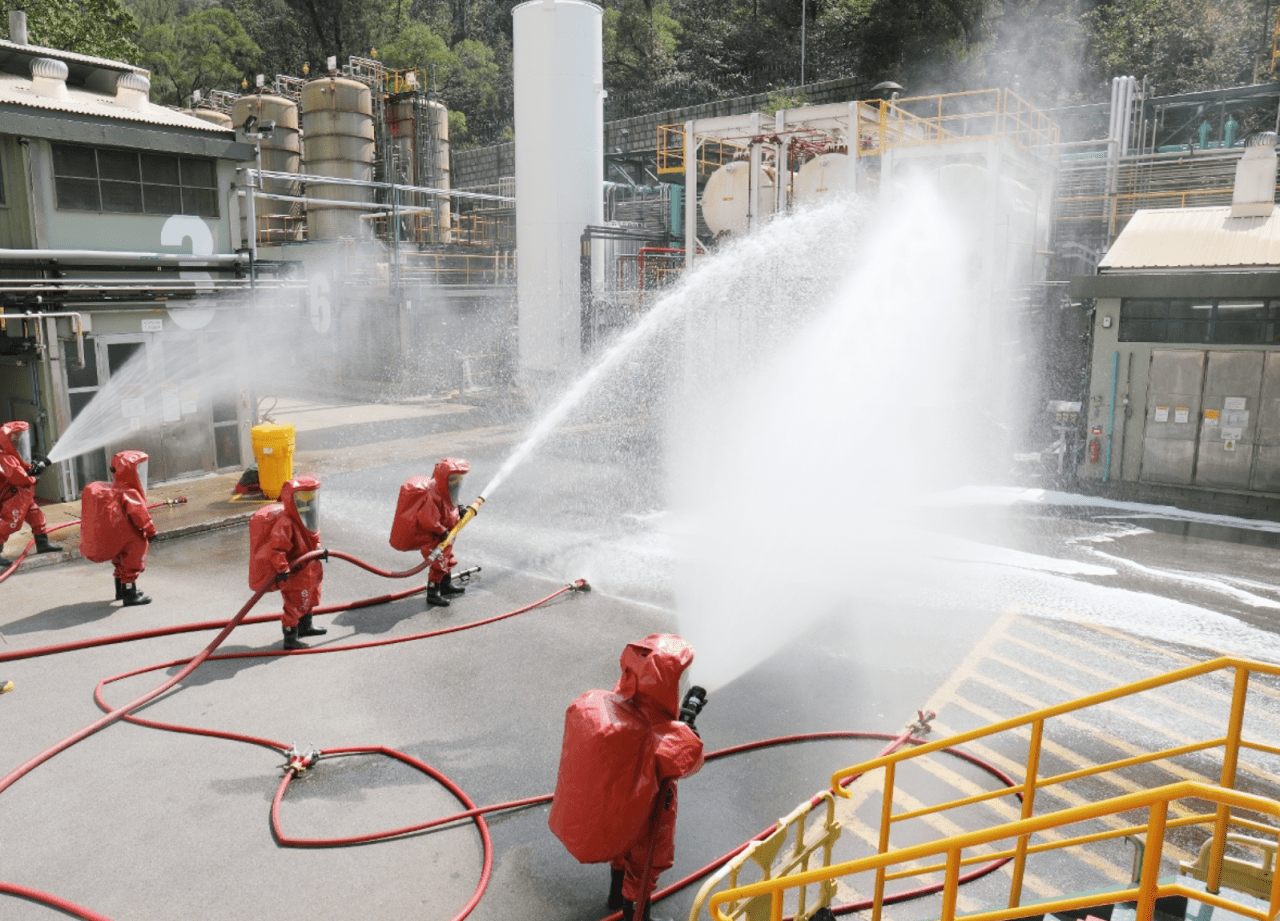 好利安藥廠火警疏散演習
Fire and evacuation simulator at the pharmaceutical factory "Hovione"
Firefighters fought the fire by the storage tank.
The Fire Brigade (CB) held on the morning of February 24th this year, a fire and evacuation simulator with dangerous chemical substances in the pharmaceutical factory "Hovione" together with Hovione FarmaCiencia SA, with the intention of intensifying the measures contingency and the coordination and communication mechanism between both parties in case of incidents.
The exercise simulated that a worker discovered that the leak occurred at the connection point of the methanol solution storage tank, thus causing a fire. The employee immediately sounded the fire alarm, the pharmaceutical factory's emergency and contingency team immediately proceeded to the internal contingency action, called the CB to ask for assistance and adopted security measures to evacuate the employees to the evacuation and meeting place. During the evacuation period, there was 1 worker who was injured. After becoming aware of the occurrence of a fire at the pharmaceutical factory "Hovione", the CB immediately dispatched 9 emergency vehicles and 38 firefighters to the site to fight the fire, carry out the evacuation and search according to the defined plan, as well as provide nursing care for the injured and simulate transport to the hospital. The simulation lasted almost 1 hour.
CB and the pharmaceutical factory "Hovione" sent around 160 people to participate in the simulation, whose main purpose is to test the responsiveness and the communication mechanism between the relevant parties in case of incidents. The respective process went well, after the simulation, both parties held a review meeting, whose objectives and expected results were achieved.
[Translated from the original]
好利安藥廠火警疏散演習
為加強與好利安藥廠在發生事故時的應變措施及協調溝通機制,消防局於本年2月24日上午,與好利安製藥科學股份有限公司在氹仔好利安藥廠聯合舉行化學危險品火警及疏散演習。
演習模擬工作人員發現一個含有甲醇溶液的儲存缸接駁口出現洩漏並發生火警,工作人員隨即按動火警警報,藥廠緊急應變隊伍即時啟動內部應變計劃,同時致電消防局求助,以及採取安全措施疏散員工到逃生集合點,於疏散期間有一名員工不慎受傷。消防局接報好利安藥廠發生火警後,立即派遣9架緊急車輛及38名隊員趕赴現場,按照既定計劃進行滅火及疏散搜救行動,並對傷者進行即時護理及模擬送院,演習過程歷時約1小時。
消防局和好利安藥廠合共派出近160名人員參與是次演習,主要目的是測試發生事故時雙方的應變能力及溝通機制,演習過程順利,事後雙方進行檢討會議,並達到預期目的及效果。
Simulacro de incêndio e evacuação na fábrica farmacêutica "Hovione"
Os bombeiros combateram o fogo junto do tanque de armazenamento.
O Corpo de Bombeiros (CB) realizou na manhã do dia 24 de Fevereiro do corrente ano, um simulacro de incêndio e evacuação com substâncias químicas perigosas na fábrica farmacêutica "Hovione" em conjunto com a Hovione FarmaCiencia SA, com o intuito de intensificar as medidas de contingência e o mecanismo de coordenação e comunicação entre ambas as partes em caso de incidentes.
O exercício simulou que havia trabalhador que descobriu que ocorreu a fuga no ponto de ligação do tanque de armazenamento da solução de metanol, acontecendo assim um incêndio. O empregado tocou imediatamente o alarme de incêndio, a equipa de emergência e contingência da fábrica farmacêutica procedeu logo à acção de contingência interna, ligou ao CB para pedir auxílio e adoptou as medidas de segurança para evacuar os funcionários para o local de evacuação e encontro. Durante o período de evacuação, havia 1 trabalhador que ficou ferido. Depois de ter tido conhecimento da ocorrência de incêndio na fábrica farmacêutica "Hovione", o CB enviou de imediato 9 veículos de emergência e 38 bombeiros ao local para combater o fogo, executar a acção de evacuação e busca conforme o plano definido, bem como prestar os cuidados de enfermagem junto do ferido e simular o transporte para o hospital. O simulacro durou quase 1 hora.
O CB e a fábrica farmacêutica "Hovione" enviaram cerca de 160 pessoas para participar no simulacro, cuja finalidade principal é testar a capacidade de resposta e o mecanismo de comunicação entre as partes pertinentes em caso de incidentes. O respectivo processo correu bem, depois do simulacro, ambas as partes procederam a uma reunião de revisão, cujos objectivos e resultados esperados foram alcançados.