13th American DDF Summit - Drug Delivery & Formulation
Start
Monday, September 18, 2023 - 00:00
End
Tuesday, September 19, 2023 - 00:00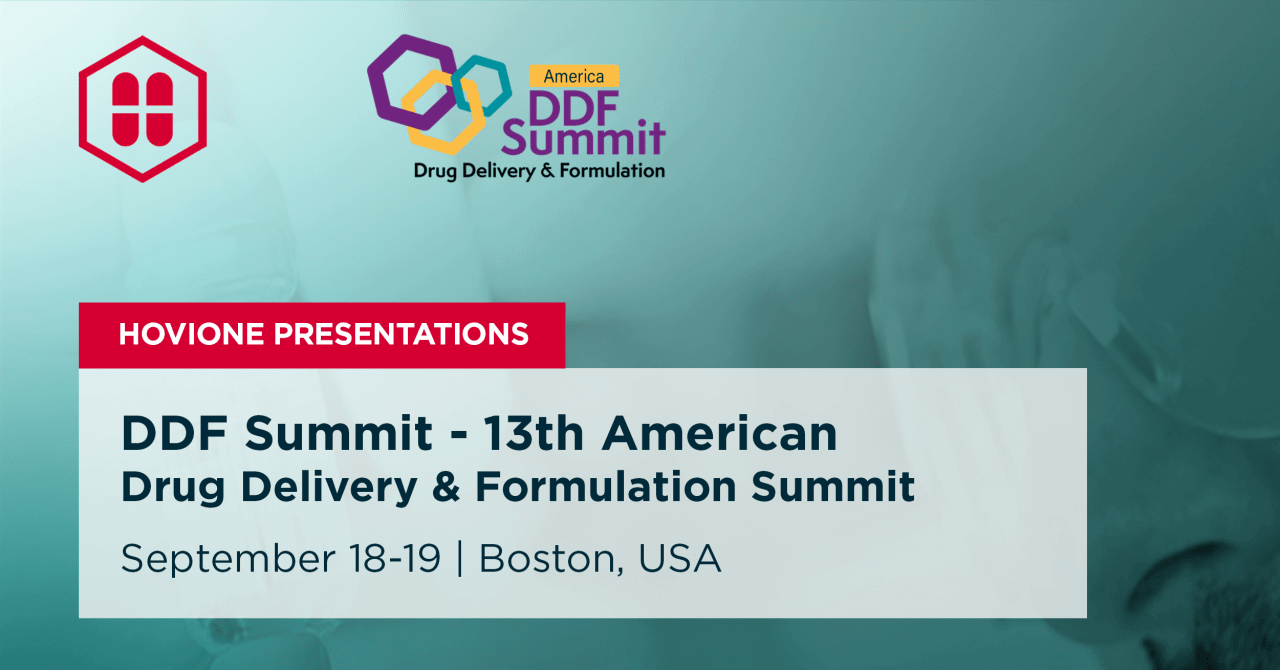 Hovione will be exhibiting at DDF - American Drug Delivery & Formulation Summit - from 18 to 19 September in Boston, USA. The 2023 Summit covers innovative solutions to the greatest challenges in pharmaceutical, biologics and device development.
Don't miss the chance to speak with our experts – Table #13 – and learn more about Epidel™ an innovative technology with the ability to deliver sustained-release pharmaceuticals via surface erosion resulting in the ability to precisely tune pharmacokinetics to meet the target indication needs.
 
HOVIONE PRESENTATION
On Sep. 19th do not miss the Technology & Innovation" session: "Controlled and sustained drug delivery - How Epidel™ is changing long-acting drug development"
Márcio Temtem and Ian Parrag will present and share how this simplified pro-drug synthetic approach is being used to fine-tune the delivery of drugs with higher drug loads, precise dosing, and prolonged therapeutic effect.
Márcio Temtem
Senior Director, Strategic Business Management Products at Hovione

Chemical engineer with 15 years of experience in the Pharmaceutical Industry, in the fields of Solubility Enhancement, Dry Powder Inhalation, Controlled Release, and Drug Product Development. 

Twelve years of experience in R&D, from which the last 2 years were heading Hovione's team in Portugal, Reporting to Hovione's Chief Technology Officer, with responsibilities over Process Chemistry Development, Drug Product Development, Analytical Development, Process Safety, Modelling, and PAT.

In the last 2.5 years, Senior Director and Strategic Business Management Products, Reporting to Hovione's CEO, with responsibilities for the P&L and Development of the Portfolio of Products at Hovione.

Ian Parrag
Vice President of R&D at Ripple Therapeutics

Ian is one of the founders of Ripple Therapeutics (RIPL) following its spin out from Interface Biologics (IBI) in 2020. Ian has a PhD in Chemical and Biomedical Engineering from the University of Toronto and a BASc in Biomedical Engineering (Engineering Science) from the University of Toronto.

Ian joined IBI in 2010 and is responsible for leading the R&D Team in the discovery of novel prodrugs for drug delivery and in managing the nonclinical development (Preclinical evaluation and Chemistry, Manufacturing, and Controls (CMC)) for controlled drug delivery product concepts through to clinical readiness. As lead inventor for the EpidelTM technology, Ian is also responsible for managing and strategically developing Ripple's platform and patent portfolio. Ian has 7 granted US patents, 11 pending US patent applications, 3 pending PCT patent application and 24 pending international patent applications along with a robust pipeline of provisional patent applications in process. Ian is an author of 7 peer-reviewed journal articles and recipient of a Natural Sciences and Engineering Research Council of Canada Industrial R&D Fellowship.
Get to know more about Epidel™  
Let's discuss your project together. Schedule a meeting with our experts.
Find more about the 13th American DDF Summit - Drug Delivery & Formulation.