Epidel™ is an innovative technology with the ability to deliver sustained-release pharmaceuticals via surface erosion resulting in the ability to precisely tune pharmacokinetics to meet the target indication needs.
The innovative Epidel™ platform developed by Ripple Therapeutics was founded on a discovery that drugs can be designed to deliver themselves without the need for polymers or excipients. 
Epidel™ introduces a breakthrough approach for precise and controlled drug release offering high drug loading and bioavailability. Simplified formulations and an innovative linker technology enable extended therapeutic effects and predictable outcomes.
Simplified formulations, enhanced safety
Epidel™ formulations contain solely the active pharmaceutical ingredient (API) and a linker, eliminating the need for additional excipients. This simplified approach prevents the formation of additional degradation products enhancing safety: the risk of adverse reactions is reduced.
Tunable and controlled release for optimal therapeutic outcomes
Epidel™ utilizes a unique surface erosion mechanism, ensuring controlled and extended drug release. This advanced approach enables smaller products with higher drug loads, precise dosing, and prolonged therapeutic effect, resulting in improved efficacy and patient compliance.
Versatility to empower tailored drug delivery solutions
With an innovative approach, rigorous screening, and formulation testing, Epidel™ offers exceptional versatility enabling the development of a diverse range of new products across therapeutic categories with high drug-loading.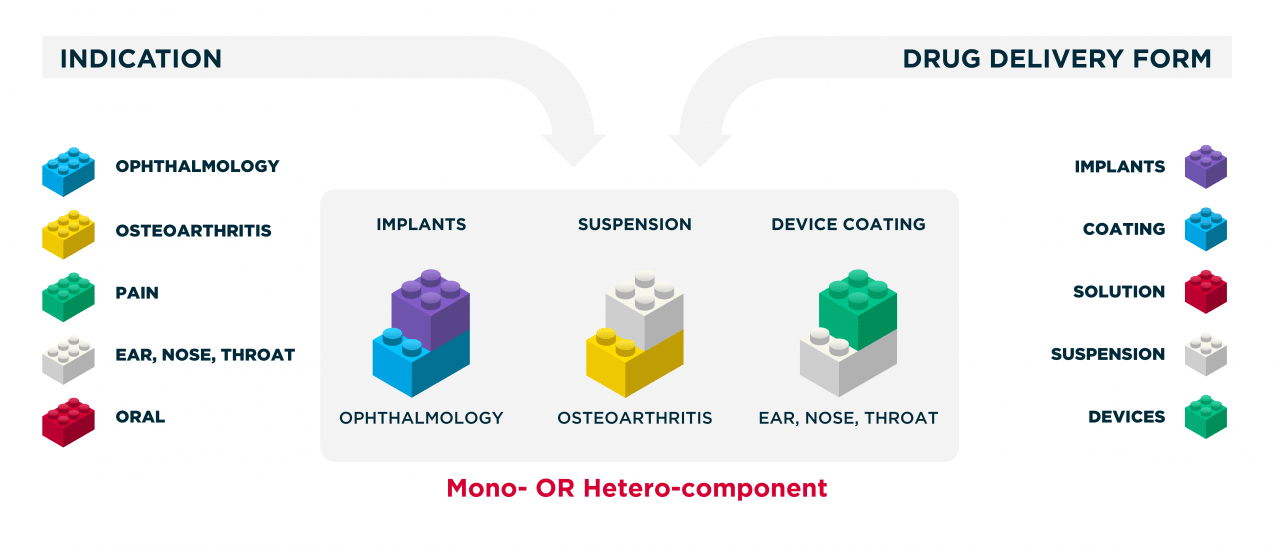 Unleashing potential for chronic therapies
Epidel™ unlocks new possibilities for prolonged therapies. The development of long-acting and non-toxic drug products with surface erosion based release kinetics enhance treatment efficacy and improve patient outcomes throughout the therapy journey. 
From Epidel™: IBE-814 IVT dexamethasone implant – Phase II (A Ripple product)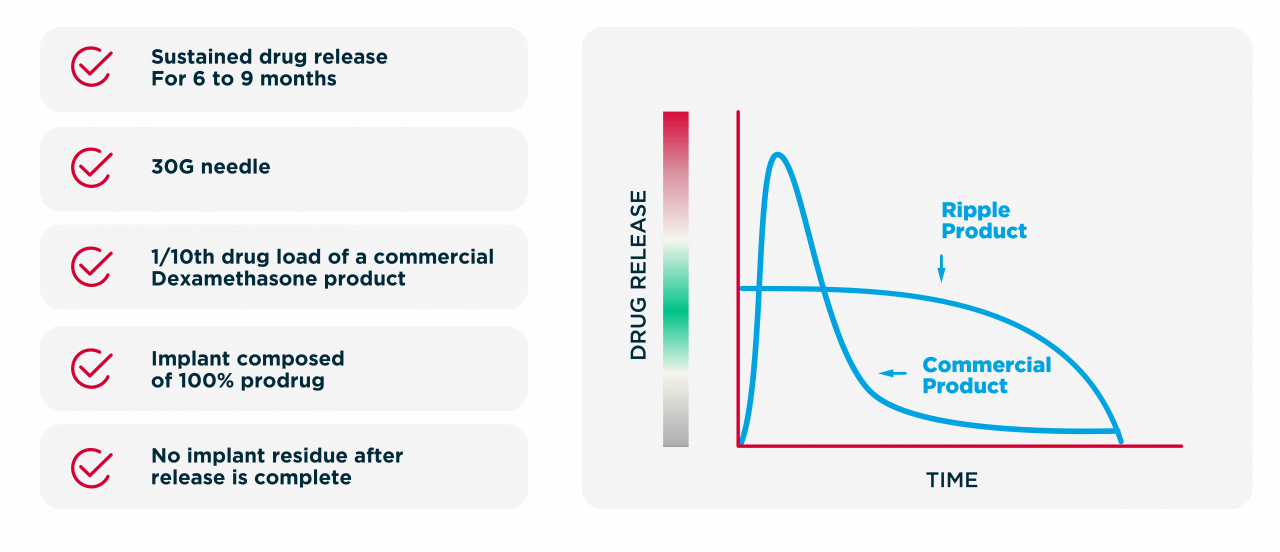 Successful outcome: Phase II IBE-814 (Ripple Therapeutics)
Simplified regulatory pathway
The simplicity starts with the chemistry and goes throughout the regulatory pathway. For example, 505(b)(2) submissions to health authorities leverage from existing data reducing costs and accelerating time to market.
Why work with us?
By incorporating Epidel™ platform into our toolbox, Hovione offers a powerful combination of cutting-edge technology, scientific expertise, and regulatory know-how, delivering exceptional value to customers seeking for innovative drug delivery solutions.
Deep knowledge in process chemistry including off-patent API, e.g. corticosteroids 
Extensive experience in Particle Engineering offering advanced capabilities to optimize drug delivery
Strong patent portfolio
Efficient evaluation process
GMP Manufacturing capabilities
RELATED CONTENT
Hovione and Ripple Enter Strategic Partnership to Expand Epidel® Platform into Non-Ophthalmic Space
Hovione, the specialist integrated CDMO, leader in spray drying and particle engineering, and Ripple Therapeutics have entered a strategic partnership to expand the use of Ripple's Epidel® platform beyond ophthalmic applications.