TwinCaps, market approved disposable inhaler
TwinCaps is a simple, disposable cost effective dry powder inhaler with high performance.
TwinCaps®
A simple, disposable and cost-effective dry powder inhaler with excellent performance.
In 2006, Hovione was asked to develop a disposable, pre-filled, low cost dry powder inhaler to deliver large drug doses.
TwinCaps® is the current market leader in Japan for the delivery of Inavir®, Daiichi-Sankyo's influenza anti-viral drug product. TwinCaps® is a two-component inhaler with a single step to inhalation, approved in October 2010 for marketing in Japan.
The TwinCaps® inhaler marketed in Japan contains two drug compartments.
TwinCaps® can deliver lactose-based or particle-engineered powders. Hovione has considerable experience in developing both types of formulations, from proof of concept, to optimization, robustness and compatibility tests, scale-up, method validation, stability studies and clinical supplies.
Effective delivery - Model Formulation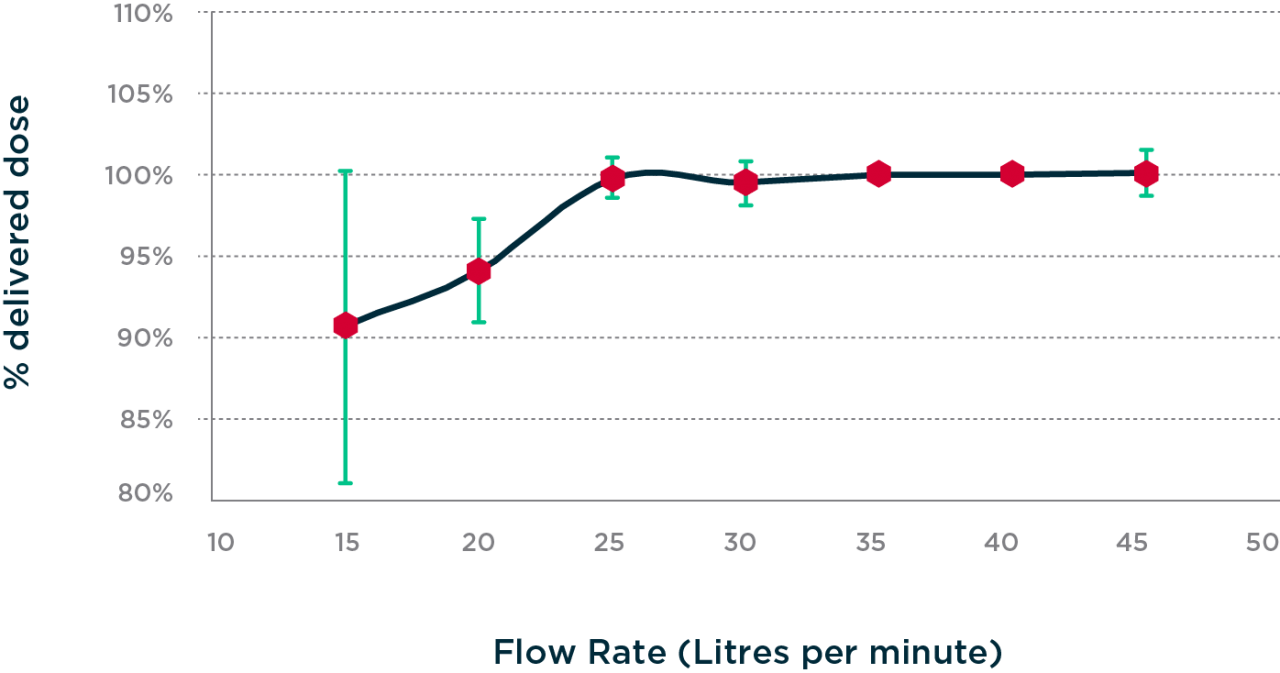 In in-vitro tests, the minimum flow rate at which TwinCaps® has been shown to deliver 95% of the nominal dose is 20 litres per minute of airflow. Above 25 litres per minute, performance is unaffected (data formulation dependent).
Drug payloads range from the microgram range, employing lactose-based formulations, up to 50 mg of active using highly dispersible, engineered particles. With two dose compartments, nominal doses of up to 100 mg are possible.
Effective Dispersion - Model Formulation
TwinCaps® uses a patented dispersion mechanism in which the dose compartment becomes a highly turbulent chamber, maximizing fine particle fractions. FPFs ranging from 25% to 70% have been obtained, at flow rates of 35 litres per minute (pressure drop 4 KPa)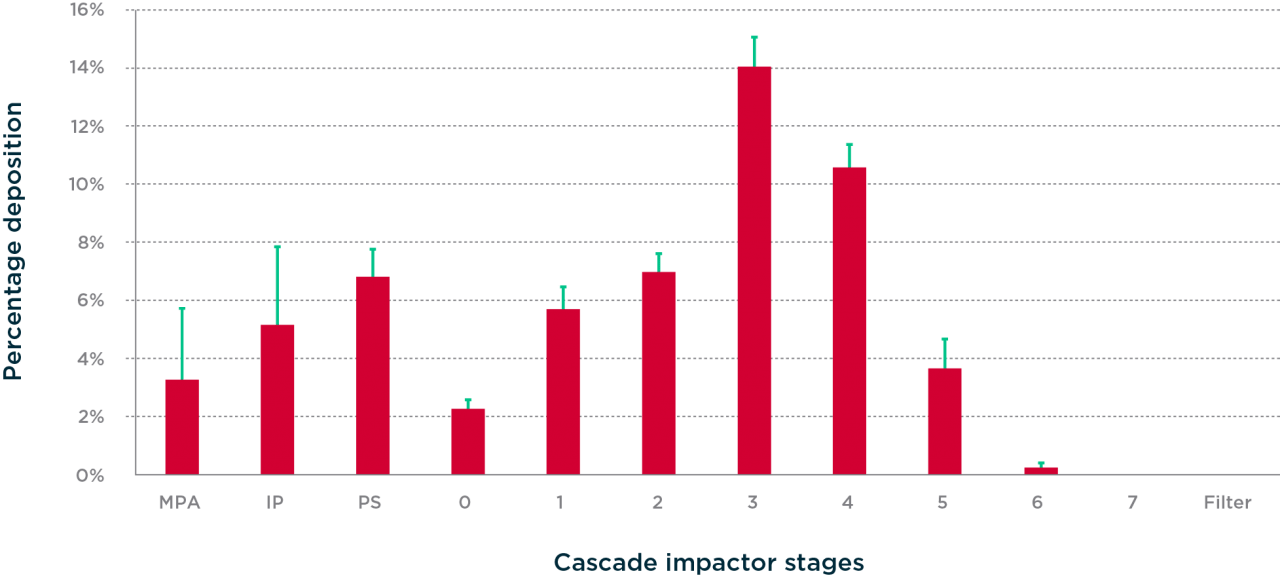 In the NGI test illustrated above, a reproducible, delivered dose to the lungs of 58% was obtained. The percentage of drug deposited in stage 3 and below was 28% in relation to the label claim, and 58% in relation to the emitted dose.
Applications
TwinCaps® has been approved in Japan for the delivery of Inavir® a long-acting neuraminidase inhibitor for the treatment of influenza. Launched in 2011, it is the current market leader, outselling all competitors.
This DPI is indicated for applications where a pre-filled, disposable, low-cost device is needed, with extreme ease of use. Examples include anti-virals, antibiotics for lung infection and pulmonary hypertension drugs.
Licensing and services
TwinCaps® is available for licensing (US Patent 8,109,267 - filed and granted in 27 countries) from Hovione Technology Limited.
Hovione can provide all formulation development services to tailor a dry powder product to the TwinCaps® device or to any other single use disposable dry powder inhaler. As an integrated inhalation products developer, Hovione possesses the most complete service offering, from API through particle design to formulation development and clinical supplies, for development, scale-up and industrial manufacturing, including full analytical support.
Key Advantages
High efficiency, single-use, disposable inhaler
Market-leader in Japan, entering USA – combination product regulatory path
Lowest number of parts on the market (2 parts) for highest manufacturability in the industry, no metal parts, blades or springs.
Patent life until 2027
Applications
Vaccines, antibiotics, anti-viral, pain managment and others – For more details Contact us.
TwinCaps® is available for clinical trail supply and for licensing. For additional information, please visit Hovione Technology website.