Interview to the 3 Generations of the Villax Family
Summary of the interview to the Villax family at the B Corp Summer Summit 2017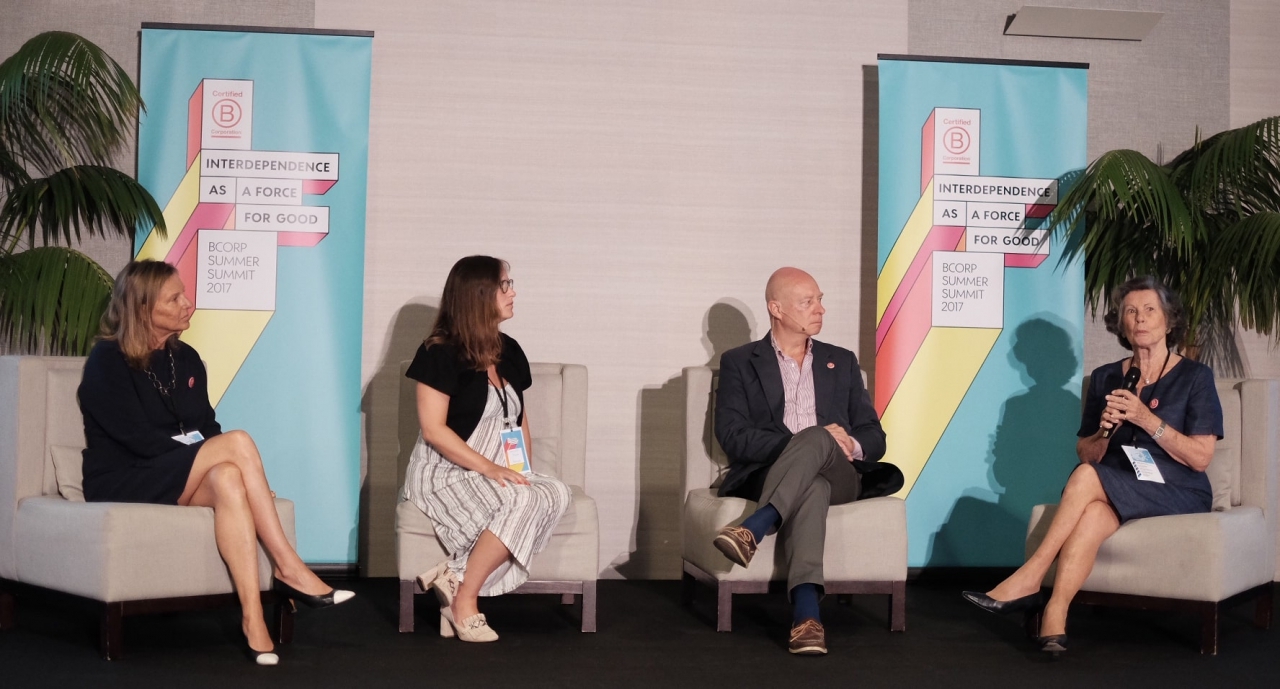 At the B Corp Summer Summit in Cascais, 22nd June 2017, Marcello Palazzi, Co-Founder & Board Member of  B Lab Europe, interviewed 3 generations of Villaxes. The Villax family founded and owns Hovione. This is what they said about Hovione becoming a B Corp:
Diane Villax, 82 - Founder Chairman – our History
 Hovione is a science based company providing products and services for the Pharmaceutical Industry  
Together with Ivan, my husband, we founded Hovione in 1959 – we started as a small lab in the basement of our family home
Making high quality pharma products  for export – Japan was our first market, highly demanding in terms of quality
From the beginning, Ivan focused on difficult chemistry, developed his patents using the state of the art technologies of those days. We were pioneers in our field of expertise and started building a reputation for the high quality products we offered our customers.
Ivan always said – we will not lower the price of our products and sell only to those markets and to customers who value our quality.
A man of high standards, Ivan set the tone for the culture that now prevails in the company – rigor, uncompromising quality, high ethics, and, being a generous man, he built the company with a sense of family, of belonging and of respect. Social responsibility and being active in the community is something of a tradition, well before companies started having such concerns.
Always pioneering in novel technologies and with a passion for innovation, we installed, back in 1992, the first of its kind waste recovery technology for which we won the prize for European Better Environment Awards for Industry.
With my son Guy leading the company for 20 years now, I´m happy to see how the company has grown and how our values have endured, not only in the Family but in the Company,  and seem stronger than ever….  He says that "serving patients is a privilege", at Hovione we take our responsibilities really seriously.
Sofia Burnay, 53 - Board Member – the Present
It gives me great pride to be here, and to see that Hovione is the first pharma company and the first chemical company to become a B Corp.
The decision to get the certification was first discussed in the family at one of our gatherings – everyone was present, from my mother to the youngest who is 12 years old. We felt it was an important matter to get family buy-in and explain the implications. It really strengthens our commitment to the long term, not just in the company or for shareholders, it also widens our view, our scope of action and sense of purpose. It requires greater investments, especially because we are in manufacturing and in the fine chemicals industry. We got unanimous approval by all, the young were particularly sensitive to the issue.
For us, Sustainability is a matter of principle. Joining the B Corp movement is perfectly aligned with our values and with our long term commitment. I think being B Corp is somewhat in our nature...
We are "In it for Life", that´s Hovione´s tag line – as a pharma company we make products that save lives, it says what we do, but it also reflects our commitment, as a company, as team members, as shareholders.
Becoming a B Corp doesn´t come without challenges – it provides us with a framework for-self assessment, a tool for continuous improvement and a richer sense of purpose.
I feel very strongly that we need to integrate this new dimension into our definition of success. As individuals and as a company we need to do our part to catalyze the positive change that our society needs.
It gives me great satisfaction to be In it for Life and now also "Best for the World".
Carolina Serras Pereira, 31 - Member of the Family Assembly – the Future
For us in the 3rd generation, family values and principles started at home. Because Hovione was always around in my life, I now find is easy to identify with the Company´s Values – We are principled - Think Differently - and Deliver -  It is very much what we were taught at home.
In the family, we know it is demanding and rigorous to create a family business for the future. We get together often as a family for the 3rd generation to understand the importance of responsible ownership.
I feel that young generations need a sense of purpose in what they do, and I think it will be very relevant to young people working at Hovione that the company is dedicated to the B Corp Movement – to making a change, to being better.
I think Hovione can strive to be successful and at the same time help the community, protect the environment, and of course look after its team members. It´s not just doing the right thing, it´s doing it the right way.
We live in a society where sharing is so important – we share everything through social media, we are more connected than ever. I think we need to share also in our work, share knowledge, share experiences and opportunities. I think B Corps has this element of sharing, which is very much XXI century.
We need to work hard to be successful but knowing that our work has a greater good, that we are improving our society and also our planet, is very inspiring.